ORWH - Understudied, Underrepresented, and Underreported Women Lecture Series
Date and Time
– May 1, 2019, 02:30 PM EDT
"Developing a Translational Research Program to Improve Quality of Life Among Latina Breast Cancer Survivors"
Event Venue
Physical Attendance
6701 Democracy Blvd (Democracy 1)
Suite 602
Bethesda, MD 20817
Event Information
"Developing a Translational Research Program to Improve Quality of Life Among Latina Breast Cancer Survivors"
Anna María Nápoles, Ph.D., M.P.H., will give a presentation titled, "Developing a Translational Research Program to Improve Quality of Life Among Latina Breast Cancer Survivors." Latina breast cancer survivors, especially those who primarily speak Spanish, experience worse symptoms and quality of life than non-Latina survivors. This presentation will describe a new framework, the Transcreation Framework for Community-Engaged Behavioral Interventions to Reduce Health Disparities, and how it was applied to develop a translational research program to address psychosocial health disparities among Spanish-speaking Latina breast cancer survivors (SSBCS).

Applying the framework, Dr. Nápoles used rigorous scientific methods in community settings to develop, implement, and evaluate the effectiveness of behavioral interventions in reducing psychosocial distress and symptoms among urban and rural SSBCS. A randomized controlled trial conducted with urban SSBCS demonstrated that the program improved several quality of life domains and decreased breast cancer concerns and depressive and bodily symptoms. Dr. Nápoles also worked with rural Latino communities to tailor and test the program among rural SSBCS. 

Engaging underserved communities in the design and implementation of behavioral interventions for cancer survivors leads to programs that are more likely to be effective and sustained because they are embedded and delivered in the communities experiencing cancer health disparities. Peer- and community health worker-delivered cancer support programs could be a low-cost, effective method for meeting the psychosocial needs and increasing the inclusion of underrepresented groups in cancer research.
The recording of this event is not currently available.
Speaker Information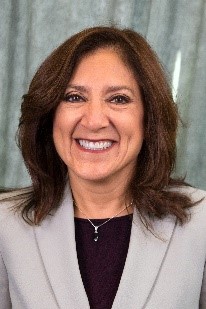 Anna María Nápoles, Ph.D., M.P.H., assumed the position of Scientific Director of the Intramural Research Program at the National Institute on Minority Health and Health Disparities in November 2017. Prior to that, she was a professor and behavioral epidemiologist in the Department of Medicine, Division of General Internal Medicine, at the University of California San Francisco (UCSF) for 27 years, where she served as the Director of the UCSF Center for Aging in Diverse Communities. Her research focuses on cancer health disparities, psycho-oncology, patient-clinician communication, quality of life of family caregivers, and community-based models of research in ethnically and socioeconomically diverse groups. She has built community-academic research partnerships to develop and test evidence-based behavioral interventions for ethnically diverse adults in community-based settings. This work has included community-based randomized controlled trials of a peer-delivered cognitive-behavioral stress management intervention for urban and rural Latinas with breast cancer called Nuevo Amanecer, which improved quality of life and reduced depressive and somatic symptoms. She is also developing and testing mHealth interventions to improve symptom management among ethnically diverse, low-income cancer survivors through cognitive-behavioral stress management and/or walking. She has a particular interest in development of scientifically sound research methods for conducting health disparities research, i.e., recruitment and retention, health measurement, and translation methods that are appropriate for diverse populations. 
Accommodations
We strongly encourage in-person participation. Online WebEx attendance will be available once the room reaches capacity.
Individuals with disabilities who need sign language interpreters and/or reasonable accommodation to participate in this event should contact Ms. Justina Gray at justina.gray@nih.gov and/or through the Federal Relay (1-800-877-8339).