NIH Takes a Life Course Approach to Researching and Promoting Healthy Aging in Women
By Dr. Janine A. Clayton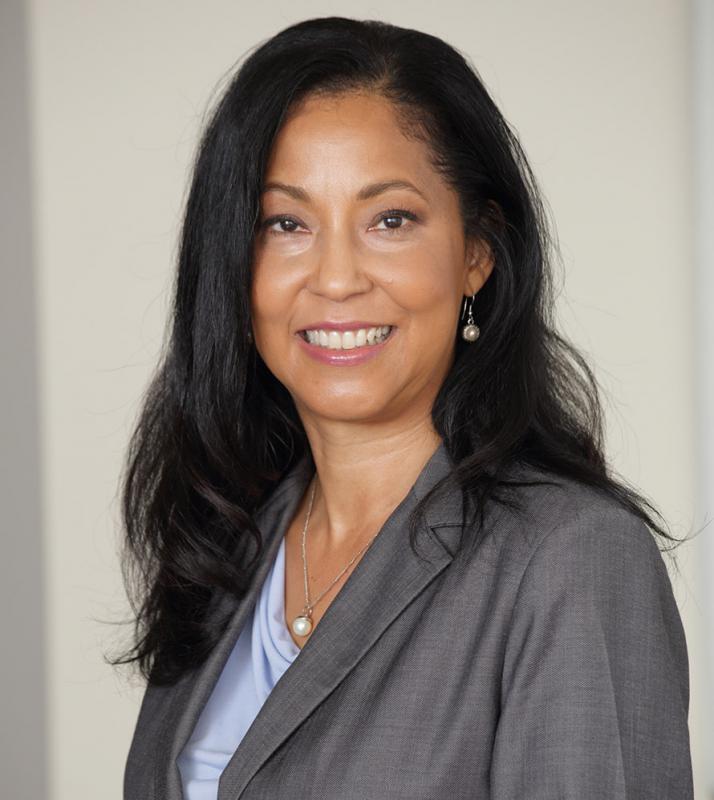 The Trans-NIH Strategic Plan for Women's Health Research presents a multidimensional framework of biological, social, and environmental factors that influence a woman's health. The intersection and interaction of these factors over the entire course of a woman's life is central to this multidimensional model and to ensuring healthier aging among women. The multidimensional framework guides research relevant to the health of women conducted and supported by NIH Institutes, Centers, and Offices. 
This model has also informed preparations for the upcoming "Advancing NIH Research on the Health of Women: A 2021 Conference," scheduled for October 20. NIH personnel and other conference participants will discuss increasing rates of chronic debilitating conditions in women, among other topics related to women's health research. ORWH anticipates that discussion will focus on research on effective prevention, treatment, and management of chronic debilitating conditions throughout women's lives—including the menopausal years—and how such research can improve their later-life health, quality of life, and longevity. 
Chronic Conditions. Data from 2018 show that over half of U.S. adults (at least 129 million individuals) have one or more diagnosed chronic medical conditions. Most chronic diseases—especially those that cause periods of debilitation, such as lupus, Alzheimer's disease, depression, migraine disorders, rheumatoid arthritis, and Sjögren's syndrome—affect women disproportionately. Multimorbidity, the simultaneous occurrence of two or more diseases that may or may not share a causal link in an individual patient, is common. Among Americans with chronic conditions, more than half have two or more such conditions. Across diagnoses, multimorbidities are more common in women than in men, especially among patients from underserved racial and ethnic populations. 
Why chronic conditions affect women more than men remains an open research question, one that the upcoming conference will examine in detail. The next issue of Women's Health in Focus at NIH, due to be published later this month, will also discuss recent and current NIH efforts to understand chronic debilitating conditions that affect women.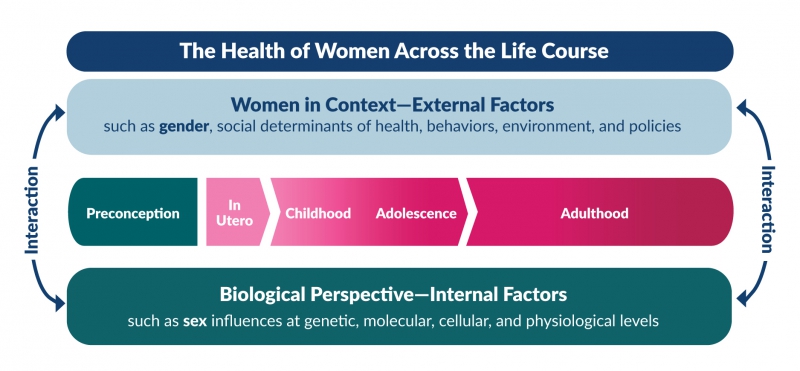 Menstruation and Menopause. Menstruation and menopause remain understudied but represent female-specific life stages that are important to overall health. Increasingly, clinicians are recognizing the menstrual cycle as a vital sign, analogous to blood pressure and body temperature, warranting regular discussion with their patients. A better understanding of menarche, the menstrual cycle, and menopause would likely provide insights into women's health outcomes across their life course. 
Several NIH-supported studies and other programs have developed new technologies to help researchers learn more about normal and abnormal female reproductive organ function. EVATAR—a three-dimensional working model of the ovaries, fallopian tubes, uterus, cervix, vagina, and liver—mimics several hormonal and physiological functions and may help researchers to develop and test new medications. Several smartphone-based applications for tracking menstrual periods and/or menopausal symptoms—such as Clue, Caria, and an app developed through a partnership among NIH, Apple, and the Harvard T.H. Chan School of Public Health—currently provide researchers with user-supplied, anonymized data. Technological innovations in menstrual products have the potential to advance the health of women. Such improvements may collect cells, blood, or fluids to detect infection, endometriosis, or even cancer.  
Although menopause remains understudied, over the past several years, an enhanced appreciation of the importance of this transitional stage has led to attention to research in this area. Menopause represents reproductive aging, which is distinct from chronological aging. At the menopausal transition, levels of hormones such as estrogen and progesterone decrease, which increases the risk of some diseases. Many women develop the first signs of chronic disease in the perimenopausal years, such as hypertension, indicating possible future cardiovascular disease; insulin resistance, hyperglycemia, or accumulation of abdominal fat, indicating possible future diabetes; and bone loss or fractures, indicating possible future osteoporosis. 
As such, the perimenopausal years provide a critical window for medical and other types of interventions to improve later-life health. In a recent interview with The New York Times Magazine, I stated that menopause is an important time for women and their health care providers to discuss reproductive history and menopause status, both of which can influence disease risk and treatment options. Also, clinicians need to be prepared to care for women throughout their menopausal transition. Clinicians should discuss the importance of midlife health and fitness with their patients and explain how good health and treatment throughout the perimenopausal years can prevent, delay, or mitigate the onset of chronic disease later in life. 
The Future of Women's Health Research at NIH. The Trans-NIH Strategic Plan for Women's Health Research asks us to imagine a world in which "every woman receives evidence-based disease prevention and treatment tailored to her own needs, circumstances, and goals." As research advances and we learn more about chronic debilitating conditions, the interaction of multimorbidities, and the influence of hormones on health and disease, we come closer to realizing this vision and better enabling clinicians to deliver individualized care appropriate for each woman's age and reproductive stage.