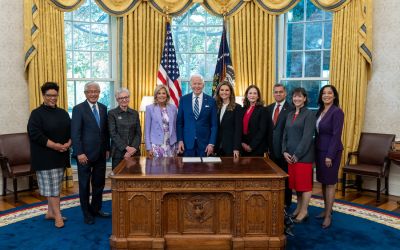 The White House has announced the establishment of the Women's Health Research Initiative within the Office of the First Lady. The initiative aims to improve women's health in the United States by accelerating research on the unique health needs of women across their lifespans and therefore fundamentally change how we approach and fund women's health research.
In alignment with our mission and values, ORWH is honored to serve alongside NIH and various federal agencies and offices to transform the research landscape and close gaps to improve the health of women. ORWH Director, Janine A. Clayton, M.D., FARVO states, "Women's health research is critical to NIH's mission to seek fundamental knowledge about the nature and behavior of living systems and to apply that knowledge to enhance health. Incorporating women's lived experiences, identities, and other social determinants of health into the research enterprise will lead to science advancements. We look forward to collaborating with the White House to promote research that involves women across the lifespan, considers the influence of sex and gender, and fosters health equity to ensure that all women receive evidence-based disease prevention and treatment tailored to their unique needs and circumstances." 
Deputy Director for Program Coordination, Planning, and Strategic Initiatives (DPCPSI) in the NIH Office of the Director, Tara A. Schwetz, Ph.D. also states, "Tackling issues critical to understanding and supporting women's health is core to the NIH Mission. Our team looks forward to continued collaboration with the White House to advance women's health research across the biomedical enterprise."
This new initiative will be led by First Lady Jill Biden, who has long championed women's health, and the White House Gender Policy Council. The initiative will be chaired by Dr. Carolyn Mazure, an esteemed leader in the field of women's health research, who will coordinate the initiative on behalf of the Office of the First Lady and the Gender Policy Council. To spur innovation, unleash transformative investment to close research gaps, and to improve women's health, the President directs his Administration to:
Establish an Initiative consisting of executive departments and agencies across the Federal government
Deliver concrete recommendations to advance women's health research
Take a targeted, high-impact approach
Engage the scientific, private sector, and philanthropic communities
Visit the White House Briefing Room for more information on the initiative and the First Lady's remarks.