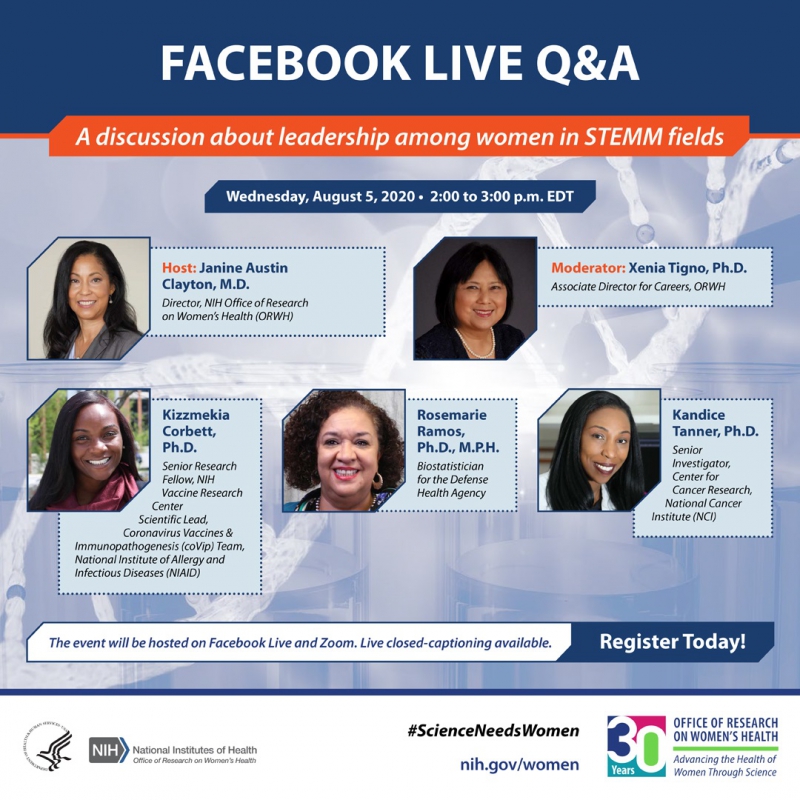 On August 5, 2020, ORWH Director Janine A. Clayton, M.D., and ORWH Associate Director for Careers Xenia Tigno, Ph.D., hosted a Facebook Live panel discussion and Q&A session about leadership among women in STEMM. Three leading scientists participated:
Kizzmekia Corbett, Ph.D., a Senior Research Fellow at the NIH Vaccine Research Center and the Scientific Lead of the Coronavirus Vaccines & Immunopathogenesis (coVip) Team of the National Institute of Allergy and Infectious Diseases (NIAID)
Rosemarie Ramos, Ph.D., M.P.H., a Biostatistician for the Defense Health Agency
Kandice Tanner, Ph.D., a Senior Investigator at the Center for Cancer Research at the National Cancer Institute (NCI)
Dr. Clayton began the discussion by summarizing the overall professional progress of women in STEMM fields. For instance, women have represented nearly half of matriculating medical students and residents as well as half or more of all master's and doctoral degree students since 2006. However, women, particularly women of color, remain underrepresented in the STEMM workplace, particularly in leadership roles. Dr. Tigno then summarized efforts by NIH—and ORWH in particular—to support women in biomedical careers. 
The panelists spoke about their education, career trajectories, research interests, health policy work, mentorship, and experiences with diversity programs. The scientists also responded to questions on a broad range of topics, including finding a strong mentor, selecting an appropriate training or degree program, harnessing resources from universities and research institutions, including nurses in scientific and health care leadership, working with diversity committees and initiatives, overcoming barriers to women and underrepresented minorities in science, confronting workplace discrimination, and other topics. 
A video recording of the discussion is available on ORWH's Facebook page.