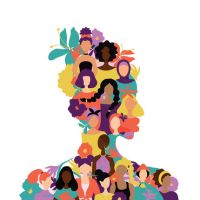 The National Institutes of Health (NIH) Office of Research on Women's Health (ORWH) and Office of AIDS Research (OAR) launched a joint HIV and Women Signature Program in 2023 to advance the NIH vision for women's health—a world in which all women, including cisgender, transgender, and gender-diverse women, receive evidence-based care, prevention, and treatment tailored to their unique needs, circumstances, and goals. The program also supports women in science careers to reach their full professional potential. An intersectional, equity-informed, data-driven approach to research on HIV and women is the cornerstone of this collaboration.
To ensure accountability to the communities we serve, ORWH and OAR seek comments and input from women with lived experience of HIV, the advocacy and research communities, the general public, and others interested in research on HIV and women.
The purpose of this request for information is to: 
Identify gaps and priorities at the intersection of HIV and women's health
Inform future programs and research efforts
Comments can be submitted via the RFI webform by December 31, 2023, at 11:59 PM ET.
To learn more about OAR and its work, visit https://oar.nih.gov/women.