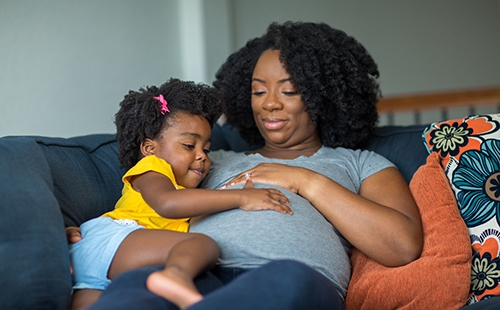 An estimated 700 women die each year in the U.S. from conditions related to or associated with pregnancy or childbirth (the highest rate among developed nations), and over 50,000 women experience severe maternal morbidity (SMM). In response, the NIH Office of the Director (OD), the Eunice Kennedy Shriver National Institute of Child Health and Human Development (NICHD), ORWH, and other NIH Institutes, Centers, and Offices have developed the trans-NIH Implementing a Maternal health and PRegnancy Outcomes Vision for Everyone (IMPROVE) initiative to support research on how to reduce preventable maternal mortality (MM); improve health for women before, during, and after delivery; and promote health equity in the United States. 
"Any maternal death is one too many," said NICHD Director Diana W. Bianchi, M.D., co-lead of the IMPROVE Task Force. "IMPROVE will prioritize interdisciplinary research that engages communities with high rates of maternal deaths and complications. Together, we can develop tailored, evidence-based solutions for women across the country." 
The IMPROVE initiative has recently awarded approximately $7.2 million in grants through a notice of special interest on MM. Areas of research include heart disease, hemorrhage or bleeding, and infection (the leading causes of U.S. maternal deaths); contributing conditions, such as diabetes, obesity, mental health disorders, and substance use disorders; and structural and health care system factors that may contribute to delays or disruptions in maternal care. 
More trans-NIH funding opportunities are expected in the coming year, and organizers of the IMPROVE initiative hope to use an integrated approach to understand biological, behavioral, sociocultural, and structural factors contributing to MM and SMM by building an evidence base for improved care and outcomes in specific populations and regions of the country. Plans for the IMPROVE initiative include a multipronged, innovative research initiative designed to target health disparities and populations disproportionately affected by MM and SMM. IMPROVE organizers also hope to address geographical disparities and social determinants of health, including level of educational attainment, race, and socioeconomic standing.
"IMPROVE will provide a diverse range of new research opportunities," said Janine A. Clayton, M.D., ORWH Director, NIH Associate Director for Research on Women's Health, and co-lead of the IMPROVE Task Force. "Whether you're studying fundamental science, leading clinical studies, conducting population research, or developing new technologies, there is an opportunity to help women and families across the country."  
More information on the initiative is available on the IMPROVE website and the Office of the NICHD Director's blog.