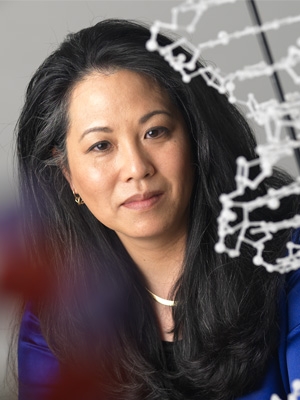 Vivian Ota Wang, Ph.D.
Deputy Director, NIH Office of Research on Women's Health
Vivian Ota Wang, Ph.D., FACMG, CGC currently serves as the deputy director of the Office of Research on Women's Health (ORWH). She provides scientific leadership and oversight within ORWH. As a genetic counselor, genomicist, and psychologist, her domestic and global experiences in research, education, science policy, and ethics span the psychological, genomic, nanoscale, and data sciences.  
Dr. Ota Wang was previously the policy and COVID lead in the Office of Data Sharing Strategy in the Division of Program Coordination, Planning, and Strategic Initiatives for the Office of the Director at NIH. In this role, she was responsible for ethics, equity, and issues related to data access and sharing policy development and implementation and COVID activities. She also established the NIH COVID Rapid Acceleration of Diagnostics (RADx) Data Repository that launched in December 2022. The repository represents one of the largest publicly accessible NIH databases for COVID-19 data in the nation and is considered a gold standard for data management, harmonization, and sharing.  
Dr. Ota Wang also served as the inaugural deputy director of the Office of Data Sharing in the Center for Biomedical Informatics and Information Technology at the National Cancer Institute (NCI). Additionally, she was the program director for Data Access and Sharing and the Ethical, Legal, and Social Implications Research Program at the National Human Genome Research Institute (NHGRI).  
Prior to joining NIH, Dr. Ota Wang served the Bush and Obama administrations in the Executive Office of the President's National Science and Technology Council. During this time, she developed public engagement and ethical, legal, and social implications guidance for nanoscience and nanotechnology. She also served as a senior advisor to the director at NIH's Office of Behavioral and Social Sciences Research (OBSSR). 
She was previously a practicing genetic counselor at the University of Colorado, and held tenure-track faculty positions at Rutgers, Arizona State, and Vanderbilt universities, where she maintained a research program focused on racial identity, bias, and multicultural competencies related to research ethics, program development and evaluation, and community engagement in psychology, genomics, and public health.  
Dr. Ota Wang holds a Ph.D. and M.Phil. in counseling psychology from Columbia University, an M.S. in genetic counseling from the University of Colorado, and a B.A. in biology from Colorado College. She is a fellow of the American Medical Association (American College of Medical Genetics) and American Psychological Association (Divisions 17 & 45), a diplomate of the American Board of Medical Genetics and American Board of Genetic Counseling, as well as a clinical laboratory specialist in cytogenetics and a licensed psychologist. 
Dr. Ota Wang's accomplishments have been recognized by academic, professional, and federal groups. She was the inaugural recipient of the National Society of Genetic Counselor's (NSGC) Audrey Heimler Special Projects Fund, through which she created and implemented a multicultural competence-based training curriculum known as the Handbook of Cross-Cultural Genetic Counseling in U.S. accredited genetic counseling training programs.  
Follow Dr. Ota Wang online at https://orwh.od.nih.gov and @VOtaWang